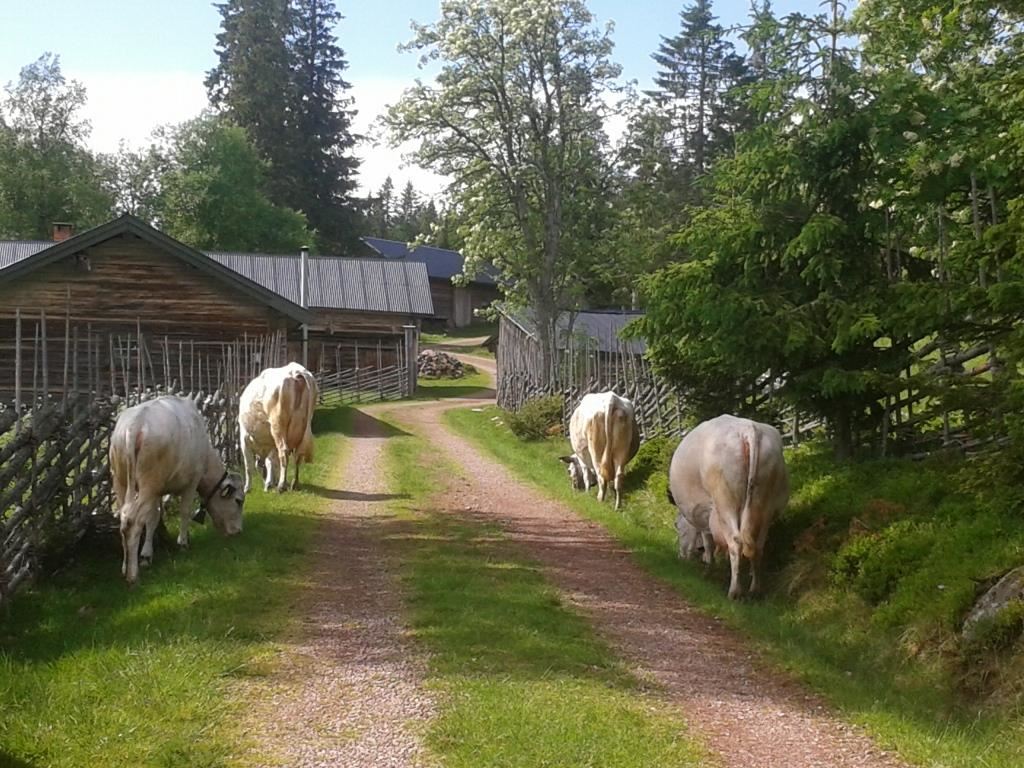 View the full image
Reduce the image
Stay in historic cultural environment
An overnight stay in Brindberg's Farm village combines accommodation in a historic environment with relaxation with lots of nature and cultural experiences around the knot!
Listen to the silence and feel the luxury of being far from big city and technology. Brindberg's Farm village is beautifully situated with a view of the mountains and Norway in the west, and a good distance from the nearest community. Brindberg is one of the few current historic farm villages holding free grazing cattle in the country.

Here you are welcomed into a genuine cottage in the 17th century environment where the facilities you are accustomed to, such as electric lighting and modern bathroom, have been replaced with candle lights, outdoor toilet and wooden fired shower and sauna. Running clean drinkable spring water is in the cabin's kitchen part together with a propane-driven refrigerator and stove.

If you want to experience something unique with family or friends, this is the accommodation for you. An accommodation that is an experience in itself!

Waking up with the sun's rays through the curtain and starting a cozy morning fire in the stove followed by getting ready for a morning walk before breakfast, following the cattle in the forest in the traditional way, that´s a good morning.

During the rest of the time you enjoy the calm and experience the silence. You can also discover nature, find hiking trails, find fishing waters, cultural heritage sites and other nature-related destinations.

Enjoy the evening in the wood-fired sauna and finish with a refreshing shower in the yard's "laundry house". Then you can just enjoy the view from the balcony or the farm's traditional surroundings.

Welcome to a journey in time!
Pris från:

1600

Facilities: Cleaning included Bedlinen included Pets prohibited Fishing on site
Kind of experience: Semesterupplevelse Presentupplevelse
Parking : Ja, Parking
Facts
Address: Brindbergs fäbod 36 796 90 Älvdalen
Built in year : ca 1800-talet
Last renovated year : 1997
Antal våningar : 1 våningar
Number of rooms : 1 st
Number of beds : 5 st
https://www.google.com/maps/place/61%C2%B020'05.0%22N+13%C2%B056'01.5%22E/@61.3347425,13.9250022,15z/data=!3m1!4b1!4m14!1m7!3m6!1s0x4668613ef3f29fd5:0x36bb6d64de6154f0!2s796+90+Brunnsberg!3b1!8m2!3d61.283713!4d13.9277488!3m5!1s0x0:0x0!7e2!8m2!3d61.3347328!4d13.933757